Facial rejuvenation & peel treatments
As our skin ages and becomes more exposed to sunlight, pollution and stress, we are likely to see unwanted fine lines and wrinkles develop. Facial rejuvenation treatments use a non-surgical approach to target these common signs of ageing. The results can be amazing and leave you with younger-looking skin.
Our aesthetic practitioners are fully qualified dentists who have undertaken additional training to perform non-surgical facial rejuvenation treatments, including dermal fillers and anti-wrinkle injections.
Our treatments are carried out using the best quality materials and equipment. If you are considering facial aesthetics treatments at our surgery then you will be more than welcome to come in for a consultation and we will give you personalised advice and care.
Treatment areas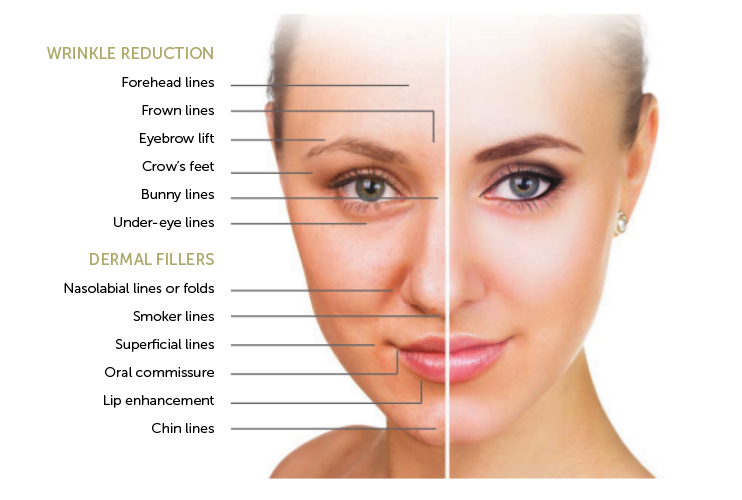 Our treatments
Products such as Botox® can be used to treat dynamic wrinkles of the face (forehead wrinkles, frown lines and crows feet). They can also be used as a preventative measure, reducing the strain on muscles in areas prone to wrinkles.

The procedure is one of the safest available for the reduction or softening of wrinkles. It is most widely used to treat frown lines between the eyebrows, forehead wrinkles, and lines around the eyes (crow's feet). It can also be used to treat lines around the mouth and on the neck.

Dermal fillers (Juvéderm®) consist of hyaluronic acid which is used to lift and firm up your skin by replacing the natural collagen lost as you age. The most commonly affected areas are nose-to-mouth lines and smoker's lines around the lips. Dermal fillers will also improve the contours of your lips and cheek bones, adding volume and shape.

The gel is administered into the skin in tiny amounts with a very fine needle. The result is instantaneous and produces a long-lasting, natural enhancement which is safe and gentle to your skin.

This is a potent AHA treatment derived from sugar cane and fruit acid. It can be used to improve the appearance of fine lines and wrinkles, acne and light pigmentation. It is designed to leave the skin with a more radiant and youthful appearance.

TCA peels are a deeper treatment involving the application of a non-toxic acid to the skin over a course of four sessions. It is used to improve deeper lines and wrinkles, acne, pigmentation, sun spots and melasma. The effects typically last longer than a lighter peel. The course of four appointments takes place over a period of two to four months.
Facial aesthetics videos
Find out more
Why choose us
Meet the team
Get in touch