Competitive dental implant prices
To keep this treatment as cheap as possible, we ensure our dental implant prices are extremely competitive compared to other dentists near Hoddesdon and Broxbourne.
Our dental implant prices (including crown) start from £2,500 but the exact cost will depend on the complexity of the treatment which will be discussed during your consultation.
Treatments range from single implants, to partial, one arch, full mouth, All on 4, All on 6 or same day (teeth in a day) implants.
The advantages of dental implants
Dental implants are the most stable and long-lasting way to replace missing teeth, whether you have lost one, several, or even all of them. The results look, feel and function just like natural teeth, allowing you to live, laugh and enjoy life with full confidence.
Dental implants are permanent and highly durable, with many advantages compared to traditional dental restorations. They don't impact or need support from neighbouring teeth and provide a solid foundation for crowns, bridges and dentures.
Implants can also help prevent bone loss and so maintain the appearance of facial features. Unlike traditional dentures, implant supported dentures don't require a palate and therefore have less impact on speech and taste.
Essential facts to know before choosing dental implants
Dental implants are becoming a popular choice for replacing missing teeth, but there are many factors to consider before committing to them. From choosing the right implant type and size, to understanding how they can impact your overall oral health, there is a lot to know when considering dental implants.
When it comes to choosing dental implants, there are a few essential pieces of advice that you should keep in mind. First and foremost, be sure to consult with a qualified oral surgeon to ensure that you are a good candidate for the procedure.
Once you have determined that you are indeed a good candidate, it is important to choose a reputable implant dentist who has experience in placing implants.

Another key piece of advice is to make sure that you are aware of the potential risks and complications associated with dental implants. As with any surgery, there is always the possibility of complications arising.
Be sure to discuss these risks with your implant dentist prior to undergoing the procedure so that you can make an informed decision.

Finally, it is important to be realistic about your expectations for the results of your dental implants. While implants can provide a great deal of benefits, they are not perfect and will not yield results that look exactly like your natural teeth.
With this in mind, be sure to set realistic expectations for yourself before undergoing this procedure.
Dental implants compared to other missing teeth solutions
When it comes to replacing missing teeth, there are several different options available. However, dental implants are often considered to be the best solution when compared to other options such as dentures or bridges.
Here are some of the key reasons why:

1. Dental implants look and feel just like natural teeth.

2. Dental implants are permanent, meaning you won't have to worry about them coming loose or falling out.

3. Dental implants don't require any special care; simply brush and floss them as you would your natural teeth.

4. Unlike dentures or bridges, dental implants won't damage adjacent teeth.

5. Dental implants can last a lifetime with proper care.
Real life dental implant treatment after and before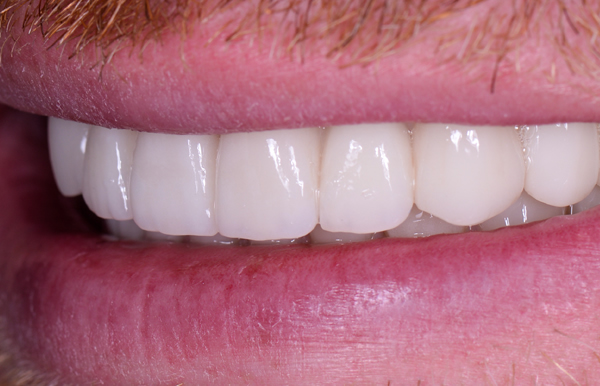 After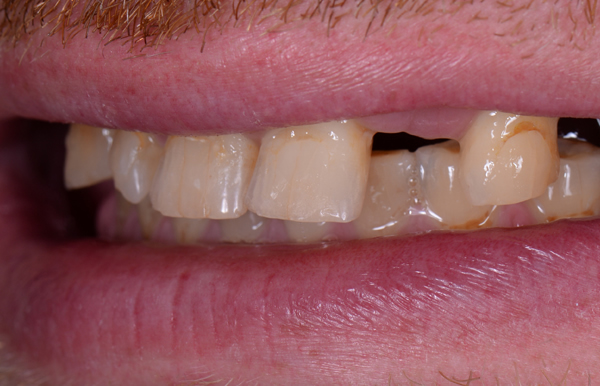 Before
Frequently asked dental implant questions
Placing implants requires a small operation which can be carried out under local anaesthetic. You will not feel any pain at the time, though you may experience some discomfort and swelling in the week following the surgery.

This is usually due to having stitches in place and is part of the normal healing process.

Treatment times vary depending on the individual case - though generally it will take between six and eight weeks from implant placement to the final restoration.

If bone quantity and quality is less favourable then the final result will take longer to achieve.

Generally we recommend that no strenuous exercise be done on the day or day after the procedure. The amount of time off required is down to the individual.

It is a trusted and reliable treatment, with 90% of modern implants lasting for at least 15 years. This exact amount of time depends on how well they are looked after.

Like any other restoration, implant-supported teeth can still be affected by trauma, gum disease and poor oral hygiene.

Dental implants can be placed in patients of any age, providing that they have sufficient quantity and quality of jaw bone tissue available. Most healthy individuals that maintain a good oral hygiene routine are suitable candidates.

Factors that may make implants less suitable, or that increase the risk of implant failure, include heavy smoking, excessive alcohol intake, periodontal (gum) disease and teeth grinding.

The treatment may also not be appropriate for those with a compromised immune system.