About our dental check-ups
We will ask you to complete a comprehensive medical history questionnaire before your first appointment. This will give us a fully-informed picture of your health and allow us to take the best possible care of you while you are with us. It is absolutely crucial that we know all your medical conditions, as well as any medication you may be taking, as these can have an affect on your dental treatment.
During your examination we will thoroughly check your teeth for early signs of decay or any other potential issues. We will also check the soft tissues in the mouth. To help us assess your oral health we may also use digital x-rays or digital photography. We will discuss with you any problems that are found and the treatment required.
Digital radiography
For patients safety and convenience we use digital radiography. Our system is much more sensitive than film x-ray systems, allowing your exposure to be reduced by as much as 90%. The large, colour-enhanced images let you see what your dentist sees - so it's easier for you to understand any issues and proposed treatment.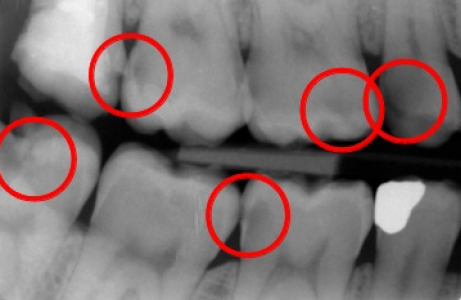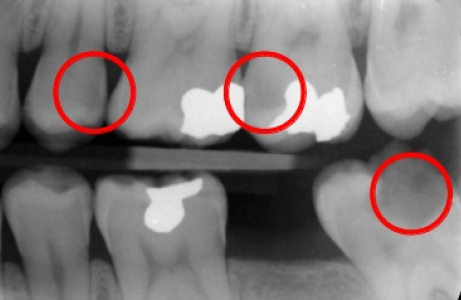 Our digital system is more cost-effective than traditional film x-rays, as our fees don't have to allow for film processing or storage. It is better for the environment, as there are no polluting chemicals involved. The process is also quicker allowing for shorter appointment times.
Important reasons for regular check-ups
You may become aware of decay as a result of the associated pain. It is important to note however, that the condition of a tooth can deteriorate even if you are not experiencing any discomfort. It is therefore highly recommended that you visit the practice for regular check-ups.

Cavities can develop on the biting surfaces of teeth (occlusal surfaces) or on the adjoining side surfaces between them (interproximal surfaces). It is important to detect and treat decay early, as cavities are much easier and less expensive to treat when they are smaller and haven't had the opportunity to develop.

During your appointment we will record teeth present and any restorations (such as fillings, crowns and dentures). We will check and record caries and defective restorations, as well as the level of oral hygiene and any signs of gum disease. Your occlusion (bite) will also be assessed along with the health of the jaw joints (TMJ).

We will check for ulcers, lumps and other signs of mouth cancer inside the cheeks, palate, tongue, floor of the mouth and under the jaw.

Where treatment is required we will schedule an appointment and give you a written treatment plan including costs.

Mouth cancer is a malignant growth which can occur in any part of the mouth, including the tongue, lips and throat. Mouth cancers have a higher proportion of deaths per number of cases than breast cancer, cervical cancer or skin melanoma. The mortality rate is just over 50%, despite treatment, with about 1,700 deaths per year in the UK. This is because of late detection.

Visit your dentist at once if you notice any abnormal problems or are not sure. Regular dental check–ups allow early detection of abnormalities in the mouth. Smoking and a high alcohol intake will increase your risk of developing mouth cancer.

The Mouth Cancer Foundation is a registered charity that raises awareness of mouth cancers and provides information and support to patients, carers and health professionals. Giving up smoking is vital in defence against mouth cancer. It is not easy though and requires preparation, determination and support. The NHS Quit Smoking website can help you with each of these. If you're thinking about giving up then it's a great place to start.
Find out more
Why choose us
Meet the team
Get in touch