The advantages of dental crowns
A dental crown (sometimes known as a 'cap') is an artificial restoration that fits over the remaining part of a prepared tooth, strengthening it and improving its appearance. Modern crowns are very natural-looking as they are coloured and shaped to match your own teeth. At Hoddesdon Dental Surgery we offer the full range of crowns from full gold crowns, quality, porcelain crowns from EMAX and Zirconia for reliable, great-looking results as well as more affordable bonded porcelain crowns.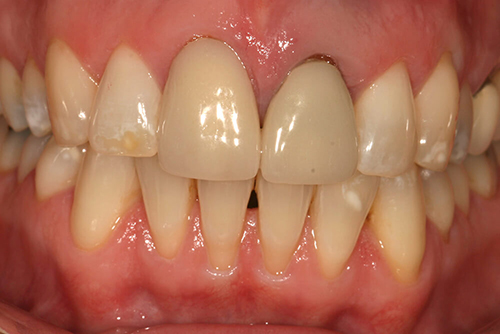 Before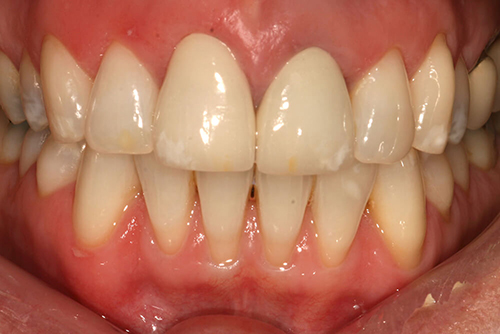 After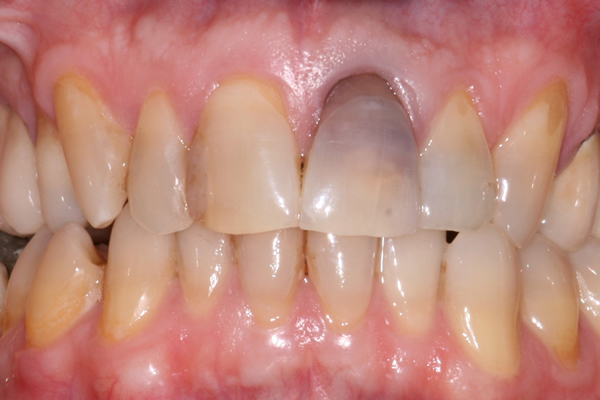 Before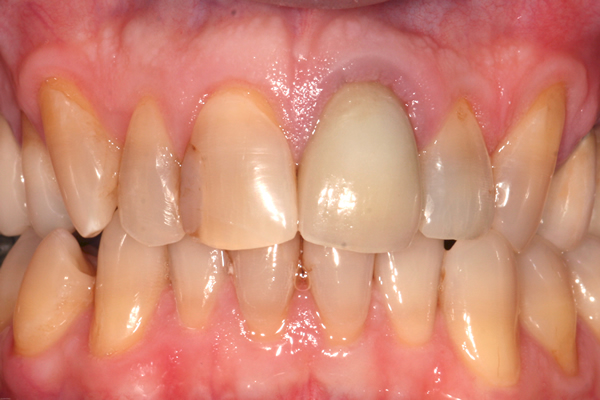 After
A crown may be required for a number of reasons. It can be used to strengthen a damaged tooth, or one that has been weakened by decay or a large filling. It can provide protection for a tooth that has had a root filling, or it can also be used to improve the appearance of poorly shaped or discoloured tooth.
When used in conjunction with a dental implant and abutment, a crown can be used to replace a missing tooth. It can also support a bridge or even a denture.
Frequently asked questions
To prepare a tooth for a crown, it first has to be reduced in size so that the crown can fit over it. An impression of the teeth and gums is made and sent to the laboratory for the crown to be created. A temporary crown is fitted over the tooth until the permanent one is ready. At the next appointment, the dentist removes the temporary crown and firmly secures the permanent one into position.

Yes. The dentist's aim is to create crowns that look like natural teeth. To achieve this a number of factors are considered, such as the colour, bite, shape, and length of your natural teeth.

Crowns were previously made using a metal foundation. This had the tendency to leave people with dark lines around their crowns. Today we can make them out of pure porcelain, ceramic or aesthetic reinforced resins that blend beautifully with the existing tooth and surrounding gums. This makes them ideal for the more visible teeth towards the front of the mouth.

Metal reinforced crowns are still used for the back teeth, where extra durability is required.

You may be aware of the slightly different shape of the crown to begin with, though it should feel completely normal after a few days.

How long a crown lasts depends largely on how well you look after it. The crown itself cannot decay, though decay can happen where the its edge joins the tooth. As well as regularly visiting the dentist and hygienist and brushing twice a day, it is important to floss and use interdental cleaners (specially shaped brushes and sticks) around the crown to remove any plaque. If this is left to develop then it can lead to decay and eventually gum disease.
Find out more
Why choose us
Meet the team
Get in touch